AN EVENING OF ART & BLUES

SEPTEMBER 5, 2008
L&N STATION IN TUSCALOOSA
On Friday, September 5, 2008 , the Alabama Blues Project will be hosting its annual event, "An Evening of Art and Blues," a great night out with music on two stages, art and auction items that also helps to raise funds and awareness about the Alabama Blues Project's education and preservation programs. The evening will be held at the beautiful and historic L&N Station in downtown Tuscaloosa from 6:00 p.m. until 12:00 a.m.
LIVE MUSIC from Willie King and the Liberators,
Microwave Dave and more!!!
Auction Items include...
Guitar autographed by B.B. King
Guitar autographed by Robert Cray
Autographed 2008 Blues Award Winners Guitar
(includes Jimmie Vaughan, Sam Lay,
David "Honey Boy" Edwards, Bobby Rush & more!)
Football Autographed by UA Coach Nick Saban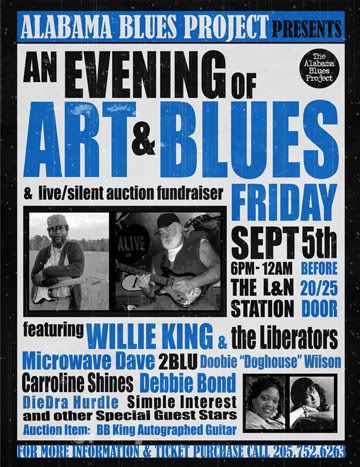 IF YOU CAN"T MAKE IT BUT WOULD LIKE TO ARRANGE FOR SOMEONE TO BID FOR YOU PLEASE CALL ( 205) 752-6263!


Click Here to See all the Auction Items...
If you can't make it but would like to show your support
of the Alabama Blues Project, please buy a ticket anyway - or make a tax-deductible donation!
Click Here to Buy Tickets Online!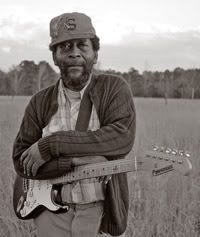 The evening will feature music on two stages, with an all-star lineup of Alabama musicians. Headliners Willie King & the Liberators and Microwave Dave will be joined by regional favorites 2BLU, Simple Interest and Doobie "Doghouse" Wilson, as well blues women Debbie Bond and Carroline Shines. Guest artist DeiDra Hurdle will make a special guest appearance along with some of the Alabama Blues Project's Blues Camp kids.
This year's edition of "An Evening of Art & Blues" will showcase its biggest and best auction yet! Autographed guitars by blues legends B.B. King and Robert Cray will be auctioned live. In addition, the Alabama Blues Project will auction an exclusive keepsake guitar autographed by all the winners of the 2008 Blues Foundation Blues Awards who attended the Memphis award ceremony earlier this year. Signatures on this guitar feature Jimmie Vaughan, Sam Lay, David "Honeyboy" Edwards, Bobby Rush and more! Phone-in bidders are welcome and should contact the ABP at (205) 752-6263 to make arrangements!
Along with the guitars, artists from all over the United States have generously donated one-of-a-kind items for the evening's silent auction. Local galleries and gift shops have also combined to make several selections that will please everyone!
This event is made possible by many generous sponsors, including the L&N Station, Harrison Galleries, Mercedes-Benz, Jim Walter Resources, Kwik Kopy Printing, Nick's Kids Fund, Barkley Buick-Pontiac-GMC Truck-Cadillac, Royal Fine Cleaners, Stephens Insurance & Financial Services, J & L Signs and Stamps, First Federal Bank, McAbee Construction, HardSteel and Tuscaloosa Toyota. Hors d'oeuvres have been graciously donated by local restaurants including Chuck's Fish, Del Palma's, Fig, Evangeline's, Kozy's Restaurant, Mary's Cakes, McAllister's Deli, Mugshots Grill & Bar and Snap Decision Catering.
Tickets are $20 in advance and $25 at the door; students are $10. VIP seating is available at $50 per seat or $450 per table (seating 10).
Tickets can be purchased online by clicking here!
Sponsorship packages are also available and include tickets, signage, program listings and inclusions in press releases and advertising. The Alabama Blues Project is also accepting auction donations and volunteers. For more information, please call (205) 752-6263 or email cara@alabamablues.org.