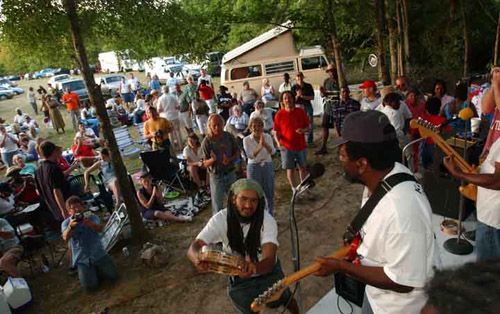 For more information, email us or call (205) 366-1307
Starring Microwave Dave and the Nukes
with Venessia Young and the Pure Blues Express,
Earl "Guitar" Williams and the Juke Band,
The Alabama Blues Project Band, Falisa Janaye,
"Birmingham" George Conner, Clarence Davis,
Debbie Bond and the TruDats, The Mississippi Blues Boys,
Willie Lee Halbert Band and more...
Click Here for the complete Schedule
Share this event on Twitter and help spread the word!
Join us on Facebook and invite your friends!
Admission: Suggested Donation of $10
Directions: The festival takes place in Aliceville, Alabama.
Click here to download directions/map (PDF format).
From Aliceville towncenter, take Route 17 South toward Geiger.
The festival site is about 1.5 miles down the road,
on the right and will be well signposted!
Hotel and Motel: The nearest accommodations are in nearby
Aliceville, Alabama. More choices are available a little farther
away in Columbus, Mississippi, Eutaw and Tuscaloosa, Alabama.
Camping is available at the festival free of charge
and at the nearby Pickensville Recreation Area.
Food and Refreshments will be available at the festival and you are welcome to bring your own. Bring a chair and sunscreen.
Sponsors: Many thanks to current and past sponsors for
making this festival possible - the National Endowment for the Arts, Alabama State Council on the Arts, the Alabama Blues Project,
Music Maker Relief Foundation.