Dear Friends, Family and Supporters,

We hope this message finds everyone well and enjoying this holiday season! Thank you all for your continued support and interest in our mission to promote and preserve Alabama's rich blues heritage as we pass it on to the next generation through our award-winning music education programs.
BLUES CAMP
It has been another busy and successful year for the Alabama Blues Project! Our year-round After-School Blues Camp is going strong. Many kids and schools have been positively impacted. The majority of our kids are considered at-risk and attend our camps on scholarship, but we are open to the community as a whole and we have a nice, diverse atmosphere. They study their choice of guitar, bass guitar, drums, harmonica or vocals and end each semester with a live performance for the public. Special thank you to First United Methodist Church of Tuscaloosa for hosting our Blues Camps again in 2012!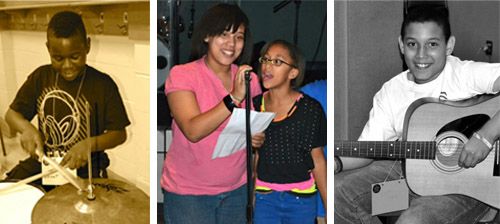 NEW SCHOOL PROGRAM - ALABAMA BLUES CLUB
We are proud that this year the ABP expanded programming for children and introduced its first Alabama Blues Club, an after-school program presented at Tuscaloosa Magnet School and Maxwell Elementary. Students learned blues history and how to play instruments. They studied everything from the African roots of the blues, the great migration and the British invasion! Their final performances were a roaring success at both schools. We are thrilled that the city of Tuscaloosa decided to fund the expansion of this program to provide blues clubs to even more area schools in 2013.

ADVANCED BAND PERFORMANCES
The ABP Advanced Band performed at numerous public performances through the year including West Alabama Chamber of Commerce Annual Meeting, Eagles Wings Back to School Bash, Annual Meeting of the National Outreach Scholarship Conference for the College of Continuing Studies at The University of Alabama. They performed for over 600 high school band students in Athens, Alabama, and again on the following day at Athens Art on the Square Festival. They also opened the nationally acclaimed Kentuck Festival of the Arts!

The ABP Advanced Band Performs at the 2012 Bama Blues Cruise
COMMUNITY EVENTS
Our first Bama Blues Cruise along the Black Warrior River in the spring featured ABP founder Debbie Bond with our Advanced Band, and we had a smashing 6th Annual Evening of Art & Blues this December at Hotel Capstone. Both were festive performance experiences and furthered outreach to the Alabama blues community.

There were several more highlights of 2012. Some of our staff and kids had the opportunity to meet in Birmingham with long time supporter Bonnie Raitt - and we would like to congratulate her that the amazing CD Slip Stream is nominated for a Grammy! We are thankful to have Cara Lynn Smith returning to the ABP and reprising her role in programming and event management.

The ABP Instrument Petting Zoo at the 2012 Kentuck Festival of the Arts
GOIN' DOWN SOUTH
Finally, the year has ended on a high note (pun intended!) spreading our efforts south for the the 2nd Annual Wiregrass Blues Festival in Dothan, Alabama. The performance and educational tribute was presented in partnership with Troy University and in honor of blues legend Big Mama Thornton, who was born in Ariton, Alabama. Events included were blues education panel discussions on Wiregrass blues, sold-out blues music performances, and an ABP blues education program to 2,300 area middle school students at the Dothan Civic Center. Wow! We would also like to congratulate Gil Anthony, the event MC who is the recipient of 2012 Keeping the Blues Alive Award from the Blues Foundation for his longest running weekly Blues Power Radio Show in Alabama.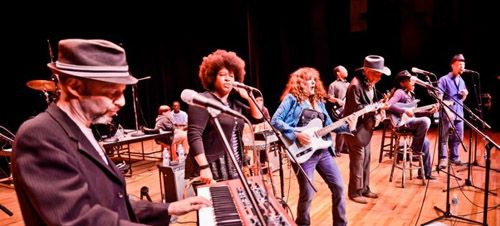 Wiregrass Blues Festival - Rachel Edwards, Debbie Bond, SharBaby
with Rick Asherson, Jonathan Blakney, Mac Arnold and Joe Jones
GET INVOLVED
We hope you will continue to support the Alabama Blues Project and remember us especially at this time of giving - your tax deductible contribution can be made easily by clicking the link above and donating online through PayPal, or mailing a check or money order to Alabama Blues Project, 712 25th Avenue, Northport, Alabama 35476. The influence our Blues Camps have on the children we reach are extensive. Our music education programs teach self-esteem, discipline, cross cultural understanding, interaction and teamwork. Plus, they are a lot of fun!