Dear Alabama Blues Project Supporters,
I am happy to announce that the Alabama Blues Project Advanced Band showcased at the 26th Annual Blues Foundation International Blues Challenge and blew everyone away! For the first time ever, they performed in the Youth Showcase among thousands of blues fans and musicians from all around the world! Not only did they put on a fantastic show, they also had the experience of a lifetime.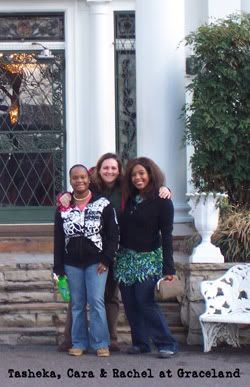 Our band played at the historic New Daisy Theater on Beale Street on Friday afternoon, and they were (not that I'm biased or anything) my favorite show of the whole weekend. On Friday night some of our band members participated in the Youth Showcase Jam Session at the historic Old Daisy Theater across the street, where they mixed up with other young musicians. It was amazing to see the talent of our kids to be able to play songs they didn't know with people they had never played with before! Along the way, we got to see some incredible blues music, and it was obvious that our Blues Camp students were very inspiredby what they saw and heard! Other activities that band members took advantage of in Memphis were Sun Records, Gibson Guitar Factory, Stax Museum of American Soul Music, Rock & Soul Museum, and Graceland. It was a haven for blues lovers!
I would like to thank all of our dedicated supporters, music instructors, youth workers and staff for helping make Blues Camp such a great program. Ralph Lusian and B.J. Miller were the advanced band leaders, and did a tremendous job prepping our young musicians for the IBC. Also, this trip to Memphis would not have been possible without financial assistance - a very special thank you to - Foundation and Matthias Tormaehlen, without whom this trip could not have happened. Thank you all!
Please enjoy this newsletter of our time at the IBC!
Best wishes,
Cara Smith, Program Director
Click Here for Video of the IBC Performance!
(Courtesy of Matthias Tormaehlen)
Read Our Stories!
Click Here for Cara's Photos of the IBC Weekend
Click Here for Matthias's Photos of the IBC Weekend
---