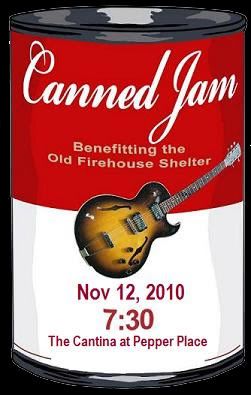 Annual Canned Jam at
The Cantina at Pepper Place
benefiting
Old Firehouse Shelter
for Homeless Men
Bring something
with you when you
come to the jam!
Suggested Donations Include:
• Financial Donations
• Clothing
• Toiletries
• Canned Goods / Non-perishable Food
• Cleaning Supplies
The Magic City Blues Society Blues Ball (Dec. 11)
tickets are now on sale. They can be bought at
Ranelli's Deli, Rogue Tavern and Charlemagne
Records. They are $12 for MCBS members and $15
for non-members and day of show for all.
You have to buy an advanced ticket to
be eligible for the terrific doors prizes.
Friday, 19th
Blue Stages House Concert
Series with Seth Walker
It is time to come indoors as the weather
cools down. There is nothing like a good house
concert to heat things back up.The
Magic City Blues Society is excited to have
Seth Walker come to town on Friday,
November 19 at 8pm. This is the best way to
see a Blues show as it is an intimate
atmosphere and you really get to interact
with the artist. Seth Walker is an up and coming
artist that plays a very diverse styles of Blues.
The price is a $10 donation at the door and
you bring your own chair and libations. There is
limited seating so make your plans now for
this very cool Blues show. Please email mcbsprez@bellsouth.net if you want to attend
and let the MGBS know how many people
are going to be coming in your group.
---